Welcome to the future of milk frothing! Speed, elegance and consistency never looked so good. The Latte Art Factory Bar Pro by Frank Buna is the ultimate automatic milk frother for coffee shops, and it's finally here. Designed to be the perfect space-saving addition to any coffee shop, the patented LAF Bar Pro can foam 1.5 liters of milk in just 60 seconds, while maintaining the perfect temperature for your beverages. Intrigued? Of course you are!
UPDATE: The Latte Art Factory Bar Pro won the Specialty Coffee Association's best new product award of 2022 and won again in 2023 at World of Coffee Dubai and for the third time, making SCA history at the 2023 Portland Expo.
The secret to consistent milk foam
What makes the LAF Bar Pro the best automatic milk frother? 
For starters, it comes with integrated IoT features that provide full telemetry and remote access to the machine for quick service and software updates. Not to mention, the LAF Bar Pro is fully automated, so anyone can use it to create barista-quality milk foam on demand.
The speed of extraction of the LAF Bar Pro has also been optimized to 1.5 liters of milk in just 60 seconds and guarantees temperature consistency throughout the entire dispense. This means that not only is the LAF Bar Pro fast, it is also consistent, meaning that you can be sure that every cup of coffee will be made to perfection.
But that's not all! The LAF Bar Pro can also create hot and cold milk foam in up to three different textures, so you can make any beverage you can dream up. Plus, it can foam just about any liquid – from plant-based milk alternatives to chocolate milk, cold brew, and even kombucha!
Furthermore, our patented milk foam technology doesn't use steam, which means that our milk foam isn't diluted with water. This results in a pure milk-foam taste, that's simply unbeatable. We also designed the LAF Bar Pro to be energy efficient. It produces milk foam on demand and does not waste energy on standby, plus, since it doesn't use steam, it saves water too.
The LAF Bar Pro is more than just an automatic milk frother
In other words, the LAF Bar Pro is more than just a milk frother – it's a veritable barista assistant that will help you create any café beverage imaginable. In fact, it's the perfect solution for coffee shops looking to tackle the global staffing shortage issue, as it doesn't require an experienced barista to operate.
When we designed it, our aim was to make the perfect machine for busy coffee shops who want to offer their customers barista-quality drinks without all the hassle. We think we've achieved that, and then some!
So, if you're looking to manage staffing costs and shortages, the LAF Bar Pro is the answer. And with its fully automated cleaning mode, you can rest assured that your machine will always be in tip-top shape.
Grow your business with the LAF Bar Pro
Here are just six of the ways that the Latte Art Factory Bar Pro was built to improve business for your café.
Create up to 3 times more drinks, faster with optimal workflows.

Make smarter business decisions with IoT enabled analytics.

Reduce staffing shortages and training costs with automated milk foam on demand.

Grow your loyal customer base with consistency and quality beverages.

Make your drink menu stand out with hot and cold milk foam drinks including the latest trend drinks.
We have launched!
By now you are wondering when the LAF Bar Pro is up for grabs and we can't blame you. We are super excited to share with you that it is currently available for shipping in Europe, Asia and Australia! If you don't want to miss out on this little beauty, you can order it through the Latte Art Factory website.
What's next?
Bringing together IoT technology with the art of coffee-making, Frank Buna's ambition is to continue being an innovation leader in a constantly changing market. As a leading manufacturer of award-winning coffee equipment, the company sets the bar sky high once again with the LAF Bar Pro.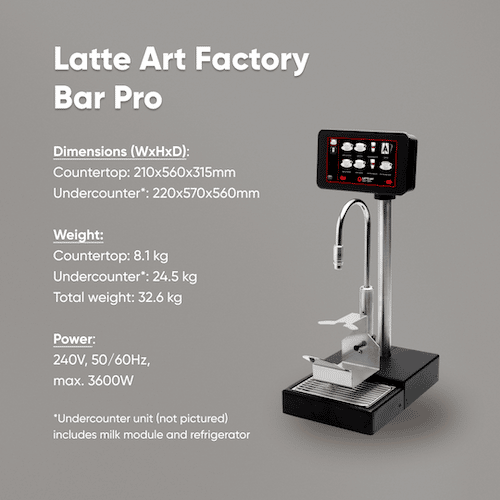 Ready to wow your customers?
Get in touch