Latte Art Factory is going worldwide! Our award-winning automated milk frother will be jet-setting around the globe, wowing coffee enthusiasts at every event.
Find Latte Art Factory at the remaining 2023 events:
🇪🇸 European Coffee Symposium, Barcelona ES – 27-29 November (with Löfbergs)
🇸🇦 Saudi Horeca, Riyadh, SA – 27-29 November
It's hard to believe that our 2023 world tour will soon be coming to a close after exhibiting at over 35 events. If you didn't get a chance to visit us this year, we will soon be releasing our full event schedule for 2024.
A sneak peak at some of our 2024 events:
🇳🇱 Horecava, Amsterdam, NL – 8-11 January at Booth 12.703
🇦🇪 World of Coffee Dubai, Dubai, UAE, 21-23 January at Booth Z5-F100
🇩🇰 FoodExpo, Herning, DK – 17-19 March (with Peter Larsen Kaffe)
🇪🇸 Alimentaria, Barcelona, ES – 18-21 March (with Caffe d'Autore)
🇺🇸 Specialty Coffee Expo, Chicago, US – 11-14 April at Booth 2060
🇬🇧 London Coffee Festival, London, UK – 11-14 April at Booth G11
🇰🇷 World of Coffee Busan, Busan, KR – 1-4 May
🇩🇰 World of Coffee Europe, Copenhagen, DK – 27-29 June at Booth CE13
…and many more, stay tuned!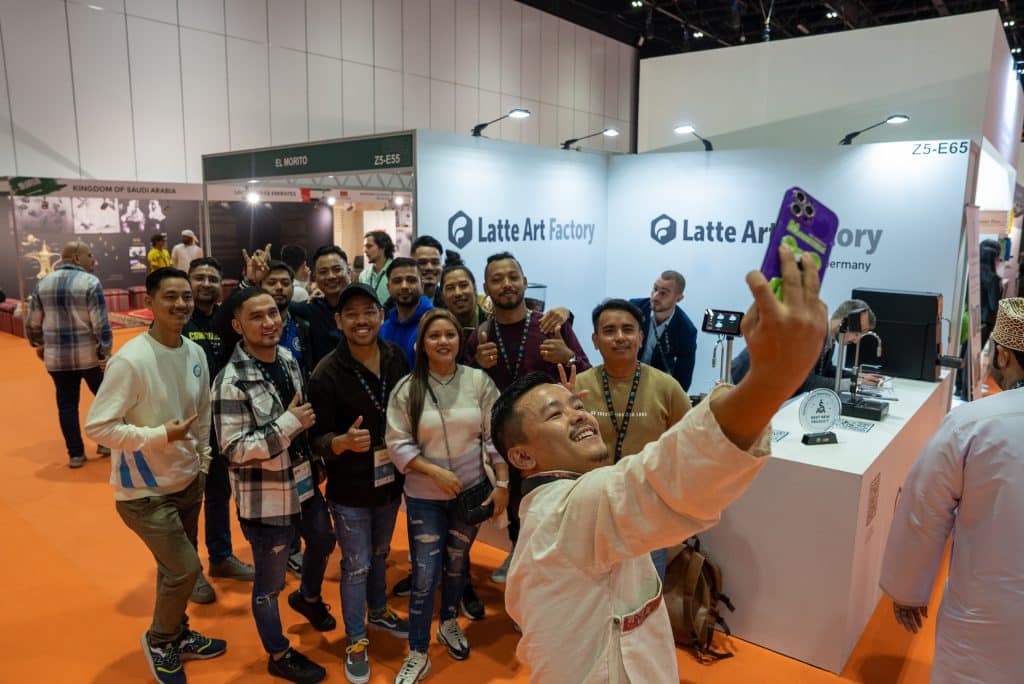 Where will our milk frothing machine make an appearance next?
Follow along on Instagram
2023 events we already visited:
🇳🇱 Horecava, Amsterdam, NL – 9-12 January
🇦🇪 World of Coffee Dubai, Dubai, UAE, 11-13 January 🏆 Winner of the 2023 Best New Product Award
🇪🇸 H&T Malaga, Malaga, ES – 6-8 February
🇬🇷 Horeca 2023, Athens, GR – 10-13 February
🇮🇪 Catex Show, Dublin, IE – 21-23 February
🇩🇪 Euroshop, Düsseldorf, DE – 26 February – 2 March
🇪🇸 HIP Expo, Madrid, ES – 6-8 March
🇩🇪 Internorga, Hamburg, DE – 10-14 March (highlight reel)
🇮🇳 Aahar India, New Delhi, IN – 14-18 March
🇧🇦 Coffee Fest Sarajevo, Sarajevo, BA – 15-16 March
🇳🇱 Amsterdam Coffee Festival, Amsterdam, NL – 30 March – 1 April (highlight reel)
🇰🇷 Coffee Expo Seoul, Seoul, KR – 5-8 April
🇨🇦 RC Show, Toronto, CA – 10-12 April
🇬🇧 London Coffee Festival, London, UK – 20-23 April
🇺🇸 Specialty Coffee Expo, Portland, US – 21-23 April 🏆 Winner of the 2023 Best New Product Award
🇲🇾 ICBS (Int'l Cafe & Beverage Show) Kuala Lumpur, MY – 25-27 May
🇰🇷 Suwon Cafe & Bakery Show, Seoul, KR – 25-28 May
🇨🇳 Hotelex China, Shanghai, CN – 29 May – 1 June
🇬🇷 WOC Europe, Athens, GR – 22-24 June (highlight reel)
🇹🇼 Taichung International Tea and Coffee Show, Taichung, TW, 7-10 July
🇹🇭 Thailand Coffee Fest, Bangkok, TH – 13-16 July (highlight reel)
🇦🇺 MICE 2023, Melbourne, AU – 17-19 August (highlight reel)
🇲🇽 Expo Café, Mexico City, MX – 7-9 September
🇮🇳 World Coffee Congress, Bengaluru, IN – 25-28 September
🇪🇸 Fórum Coffee Festival, Barcelona, ES – 29 Sep – 1 Oct
🇮🇳 Blend Bazaar, Bengaluru, IN – 6-7 October
🇮🇹 HOST Milano, Milan, IT – 13-17 October 🏆 Winner of the 2023 Innovation Smart Label Award
🇰🇷 Cafe & Bakery Fair, Seoul, KR – 19-22 October 🏆 Winner of the 2023 Superb Award
🇩🇪 IBA Bakery Show, Munich, DE – 22-26 October (with Cup&Cino)
🇭🇷 HoReca Adria, Opatija, HR – 26-28 October (with AB Plan)
🇷🇴 Horeca Retail Expo – Bucharest, RO – 4-6 November
🇰🇷 Cafe Show Seoul, Seoul, KR – 8-11 November
🇹🇼 Taiwan International Cafe Show, Taipei, TW – 17-20 November
Handy links:
Hot of the press: read our latest news