Our new LAF Bar Pro by Frank Buna has won the prestigious Best New Product Award at the World of Coffee Milan event this June. Our foamer was pitted against many other new products in the Commercial Coffee Preparation and Serving Equipment category, and we're proud to say that it came out on top!
Judges praised the product for its dynamic functionality and aesthetic design. The Specialty Coffee Association recognized the Latte Art Factory Bar Pro as a top new product in the industry, and we are thrilled!
UPDATE: The Latte Art Factory Bar Pro won the Specialty Coffee Association's best new product award again in 2023 at World of Coffee Dubai and for the third time, making SCA history at the 2023 Portland Expo.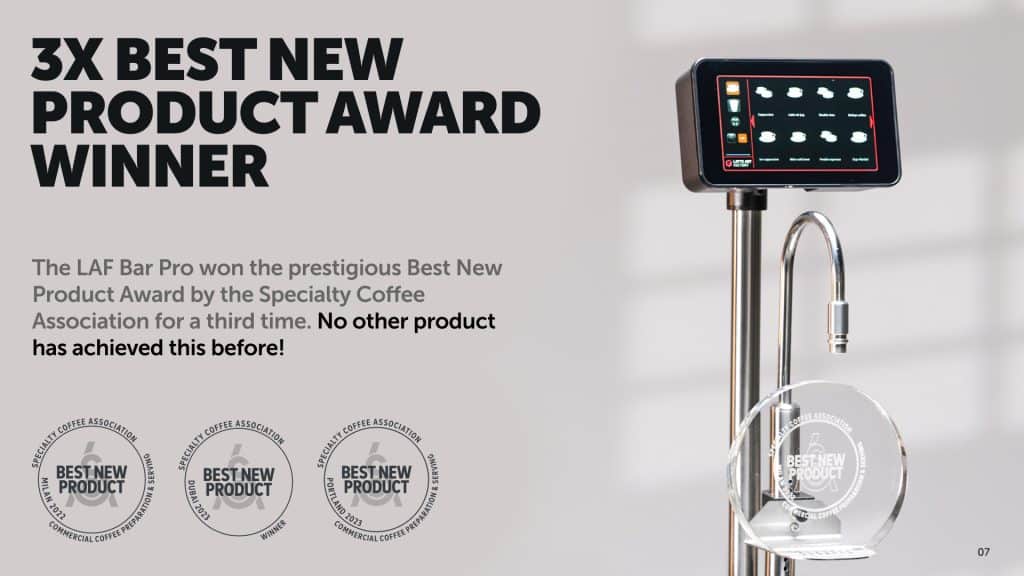 The LAF Bar Pro: Making Waves in the World of Coffee
World of Coffee is one of the biggest events in the specialty coffee calendar, and this year's edition was no exception. The three day event was packed with activities, from exhibitions and demonstrations to the World Coffee Championships. This year, we submitted our product for the Best New Product Award category. This win is a testament to the hard work and dedication of our team.
From the very start of development, our goal was to create a top-of-the-line product that would make it easy for baristas to create perfect foam every time. The LAF Bar Pro is not not only our response to the global staffing shortage in the coffee industry. It's our way to empower baristas and help them create amazing drinks that constantly wow their customers.
What went into judging the best new product at World of Coffee Milan?
The judges took into account aspects such as design, innovation, science, sustainability and current industry trends to come to their decision. We feel honored and inspired to have won this award, and will continue to innovate and develop products that make a real difference in the world of coffee.
We had hope that our product would be well-received at World of Coffee Milan, but to come away with the Best New Product Award is truly incredible. It's true that our LAF Bar Pro combines style and substance to create the perfect foamer for any cafe. It has a small footprint, which means that it doesn't create a barrier between barista and customer. It also improves the customers' workflow, efficiency and speed of delivery without compromising on the quality of beverage.
Improving the coffee experience for both baristas and customers
The product's sleek design enhances the customer's experience, and its liquid textures and flavors give the barista complete control of the coffee experience. Compared to other machines on the market, the LAF Bar Pro is a step above the rest, as it can extract hot milk, hot foam, cold milk and cold foam, at the same time. This means that the barista can use up to three different phases of extraction in just one receive!
A more sustainable milk frothing option for cafes
The LAF Bar Pro also lets you dispense any plant-based milk and foam it with the same quality and perfection as dairy milk. This means that you can make vegan-friendly coffees that taste just as good as regular coffees. You can also use chocolate milk and foam cold chocolate or hot chocolate at the push of a button.
Additionally, the LAF Bar Pro helps minimize milk wastage by up to 25%. This makes it a more sustainable option for cafes looking to reduce their environmental impact.
Innovation has always been at the heart of our company ethos
Finally, the LAF Bar Pro is cloud-enabled. This means that cafe owners can monitor consumption data in real-time. Thus, making more informed decisions about their menu and pricing. It also enables businesses to service the machine remotely, leading to less downtime and more reliable performance. Technology solutions have always been at the heart of our company ethos, alongside a commitment to superior quality and innovation. We are very proud to say that the LAF Bar Pro is a reflection of all that.
Learn more about how the Latte Art Factory Bar Pro can benefit your coffee business.
Get in touch
Here at Frank Buna, we're constantly striving to create products that make a difference in the lives of our customers. As a leading manufacturer of award-winning coffee equipment, we always set the bar high for our products and continue to be at the forefront of the industry.
We're thrilled to have won the best new product award and view it as a real vindication of our vision for the LAF Bar Pro. We believe that our automatic milk frother has the potential to change the way that coffee is made and served. Next year, we look forward to seeing it in action in many more cafes.
Want to learn more about the LAF Bar Pro or purchase one for your cafe? Visit the Latte Art Factory website, read our product launch press release, or contact us today!
Ready to wow your customers?
Get in touch