Australian Cafés Invited to Line Up for a Jolt of Productivity
HÖVELHOF, GERMANY (21, September 2022) — Café owners and operators in Australia will be able to make better margins on the lattes they sell thanks to the arrival today of the Latte Art Factory Bar Pro, an automatic milk-frothing machine that allows minimally skilled baristas to prepare perfectly confected coffee beverages every time.
Latte Art Factory by Frank Buna and its new strategic partner Segafredo jointly predict that the LAF Bar Pro will be a game-changer for profit-thirsting cafés in and around Sydney, Melbourne, the Sunshine Coast, and Perth—locations where Segafredo (the world's largest privately owned coffee company) has the innovative milk-frothing machine on showroom display and ready for purchase.
Global leader for coffee making technology Latte Art Factory by Frank Buna said milk foam—or frothed milk, as it's also known—is a beloved coffee additive among Australians. Indeed, more than 70 percent of coffees served in the cafés of Oz are either a frothed latte, flat white, or cappuccino, according to coffee consumption statistics.
However, these java-based beverages have in the last two years posed profitability challenges for cafés, coffeehouses, and other establishments, the partners noted. The main source of the difficulty was the Covid lockdowns, which produced a shortage of baristas qualified to prepare milk foam, said Frank Buna Chief Business Development Officer Sven Keysers.
Staffing shortages are of an unprecedented scale in Australia
"The staffing shortages are of an unprecedented scale," he said. "A major contributing factor besides the pandemic has been the sharp reduction in visas offered to foreign workers who traditionally are a reliable source of hires to fill barista positions."
The LAF Bar Pro represents a strong potential solution because the milk-frothing machine reduces the time and labour required to produce lattes and similar high-volume sellers. Consequently, cafés can produce the same number of coffees per day as they once did, only faster and with fewer hands involved.
Just as importantly, the involved hands do not need to be highly skilled to prepare flawless lattes, Keysers explained. "With the LAF Bar Pro installed, if a barista can push a button, they can make frothed milk just like a pro," he said.
"The LAF Bar Pro will practically be the second barista in your café," Keysers continued. "And that means it should be more profitable to make and serve each cup, considering that typical pay for a highly skilled barista in Australia is $30 [AUD] per hour—and rising. We believe the LAF Bar Pro is going to allow café owners to very successfully address their present struggle to earn margin."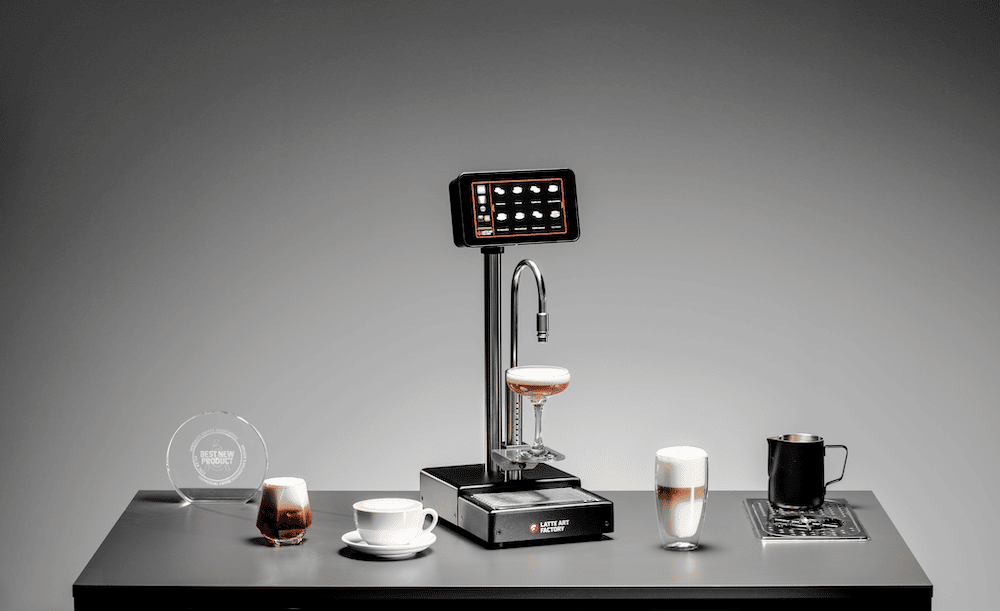 The LAF Bar Pro will be on display at MICE2022
Meanwhile, Segafredo will showcase the LAF Bar Pro along with several other Latte Art Factory machines 27-30 September at the Melbourne International Coffee Expo. Both companies expect particularly keen interest in the LAF Bar Pro, winner of the Specialty Coffee Association's award for best new product of 2022 and 2023. (More information about the show is available at https://internationalcoffeeexpo.com/)
Latte Art Factory, Segafredo Announce Strategic Partnership
The LAF Bar Pro's arrival in Australia was made possible by the strategic partnership between Segafredo and Frank Buna, which the two giants formed just this month and are announcing today.
"Bringing the LAF Bar Pro to Australia is a major milestone that will open new opportunities for us to increase our national footprint in this nation of coffee lovers," said Andrew Grandfield, Managing Director of Segafredo Zanetti Australia. "There are many synergies between Segafredo and Latte Art Factory, including our rich histories and shared desire to continually innovate and provide customers with exceptional experiences. As a result, we believe this partnership will offer high volume sales for both of the partners."
Keysers echoed that assessment. "We at Frank Buna are thrilled to be partnered with Segafredo," he said. "Our commitment to industry-leading innovations and our shared dedication to impeccable high-touch service means that, with Segafredo, we have a commercial partner who will deliver our brand experience to the highest standards."
About Segafredo
Segafredo Zanetti Pty Ltd was founded in 1973 by Massimo Zanetti in Bologna, Italy. Today Segafredo Zanetti is a well-known international Italian espresso coffee brand with locations worldwide. Segafredo Zanetti belongs to the Massimo Zanetti Beverage Group.
Segafredo Zanetti Australia was established in 1999 as a daughter company with a precise company mission to spread the taste, the culture and preparation of a real Italian Espresso, offering a product of outright quality, guaranteed from the small plant to the cup, as only Segafredo Zanetti can do.
About Latte Art Factory by Frank Buna
Frank Buna is building the future of coffee equipment. Bringing together automation with the art of coffee-making, Frank Buna is an innovation leader in a constantly changing market. The company's LAF Bar Pro automatic milk-frothing machine won the Specialty Coffee Association's award for best new product of 2022, which Frank Buna considers validation of its strategic vision.
Want to learn more about the LAF Bar Pro or purchase one for your cafe? Visit the Latte Art Factory website, read our product launch press release, or contact us today!
Product Contact:
Franjo Kis
Franjo@frankbuna.com
Media Contact:
Lindsay Buescher
Lindsay@frankbuna.com