With Boncafe's passion for exceptional service and Latte Art Factory's cutting-edge technology, we're on a mission to revolutionize the coffee scene in Thailand. Get ready to elevate your coffee game and delight your customers like never before.
HÖVELHOF, GERMANY (07.07.2023) — Latte Art Factory is thrilled to announce its partnership with Boncafe Thailand, the leading distributor of specialty coffee and coffee equipment in Thailand, to bring the innovative milk foaming technology to the country.
Picture quick and flawless milk frothing, consistent quality in every cup, and latte art that will wow customers. With the Latte Art Factory's innovative milk foaming solutions, the power to create unforgettable coffee experiences that keep your customers coming back for more is just a tap away.
As a market leader in Thailand coffee industry, Boncafe Thailand is actively seeking for a top-notch innovative product to expand our offerings for the extensive market needs. "With our mission to be a 'Total Coffee and Beverages Solutions Provider,' Latte Art Factory, a world breakthrough automatic milk frothing machine by Frank Buna, not only is a perfect match for our business objectives, but it offers a distinct and incomparable solution to a whole new level of beverage variety" said Usapun Inteevoravong – CEO of Boncafe Thailand.
The one-of-a-kind Latte Art Factory can both uplift consumers' appetite towards milk beverages through the impeccable milk foam qualities that the machine offers and also ease up the café owner's burdensome operations with its simple yet efficient solution.
"This partnership will not only benefit Latte Art Factory and Boncafe Thailand, but I firmly believe that this innovation will extend to elevate our coffee communities to a whole new level." adds Usapun.
Latte Art Factory debuting at Thailand Coffee Festival
So, get your coffee cups ready, because the Boncafe Thailand and Latte Art Factory partnership is set to take the Thai coffee scene by storm. Catch Latte Art Factory with Boncafe Thailand at Thailand Coffee Fest, from July 13th to 16th at Booth S1, where we'll also be joined by the one and only Jibbi the Littles for an action-packed latte art smackdown on July 14th! There is a lot more Boncafe has planned for the coffee festival so be sure to check out the full schedule of workshops and menu tastings.
About Boncafe Thailand
Boncafe Thailand is a business provider with the One Stop Coffee Solution; a coffee manufacturer, distributor, and also the importer of many products including top-notch coffee machine brands with more than 30 years' experience and over 24 branches across the country. Boncafe Thailand is currently a part of the Massimo Zanetti Beverage Group; an Italian coffee company which is one of the world's largest coffee company. Visit their website to learn more.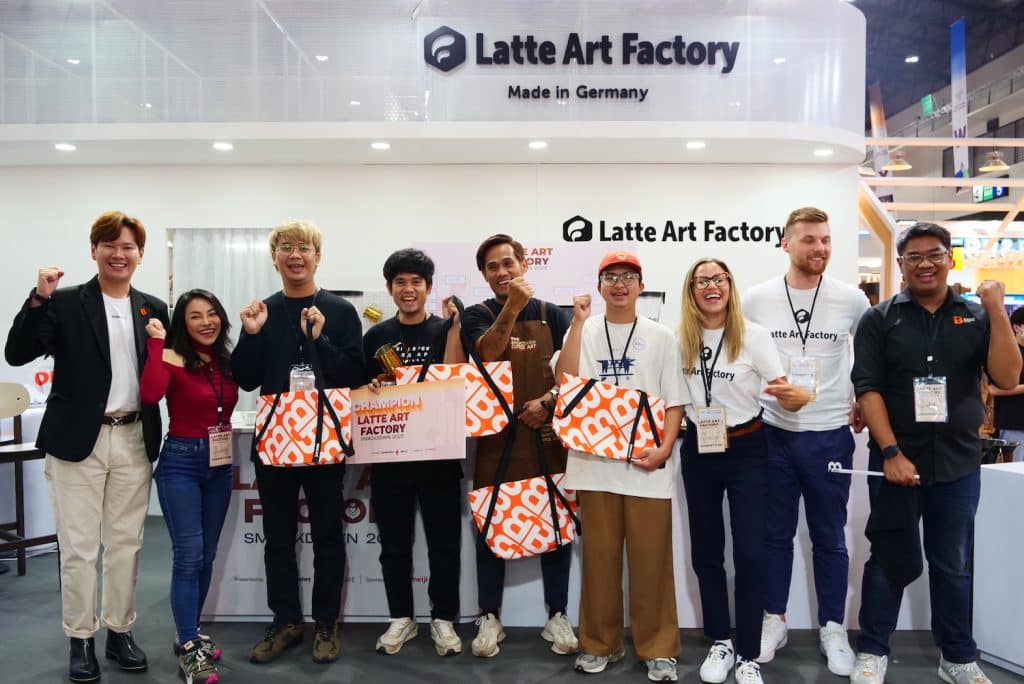 About Latte Art Factory by Frank Buna 
Frank Buna is shaping the future of coffee equipment by combining automation and the art of coffee making. As an innovation leader in a dynamic market, Frank Buna is a company to watch. Their LAF Bar Pro automatic milk-frothing machine has received recognition as the best new product of 2022 and 2023 from the Specialty Coffee Association, an achievement the company sees as validation of its forward-thinking approach. 
Want to learn more about the Latte Art Factory or purchase one for your cafe? Visit the Latte Art Factory website or contact us today!