Advancing quality and speed across cafés in Romania.
HÖVELHOF, GERMANY (09, November 2022) — Frank Buna is proud to be partnering with 5 to go in Romania, introducing the Latte Art Factory in the Eastern European region. This innovative automatic solution to milk foaming will ensure that every single customer receives the perfect cup of coffee every single time. This partnership will create many unique opportunities for both companies. Frank Buna's expansion reaches out to the farther parts of Eastern Europe. Meanwhile, 5 to go, is now hitting an amazing milestone of 400 cafés. With the help of Latte Art Factory, controlling the quality and consistency throughout these 400 locations has never been easier.
Eastern Europe shows significant potential as a coffee destination, with consumption showing a steady increase. Specialty coffee is also gaining popularity in countries like Poland and Romania.
5 to go have been successfully leveraging this increase in demand, having opened 400 stores all over Romania alone. With an increased international presence, 5 to go launched operations in France, Belgium, Great Britain, and Hungary. In 2021, they held an impressive 49% market share in the focused coffee chain segment in Romania, making their cafés a popular destination for many in the country.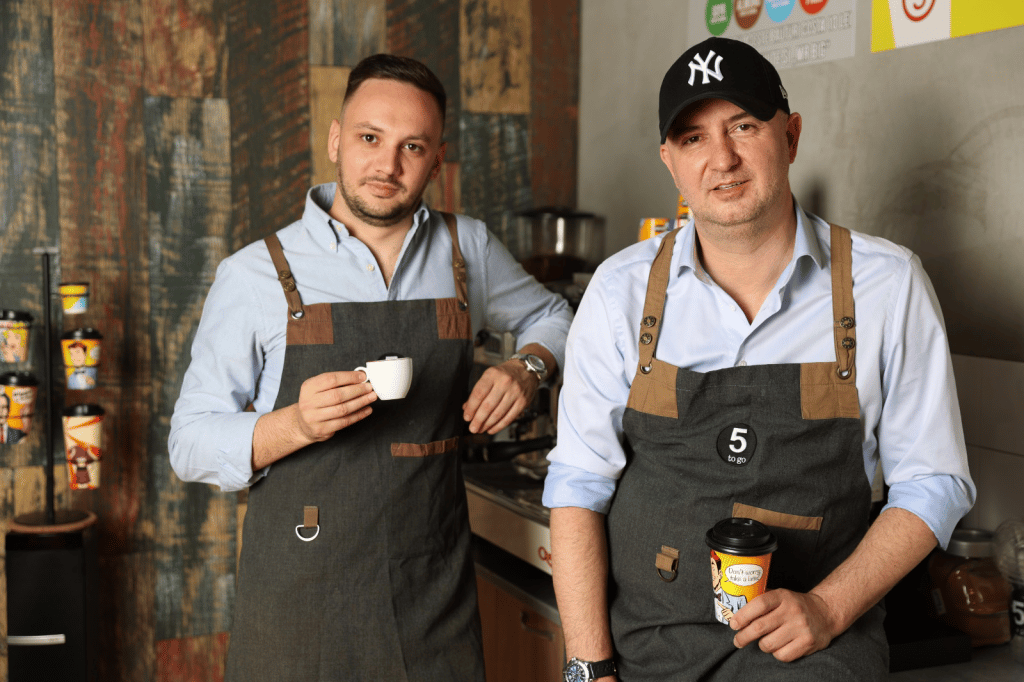 This rapid expansion paired with an increased interest in coffee naturally results in higher expectations when it comes to the quality of the final product and service. Producing premium coffee-based drinks can be costly at such a big scale. It would require highly skilled staff, continuous training, and a significant amount of time. This is where Latte Art Factory comes in.
5 to go co-founder Radu Savopol is excited to delight his customers with faster service
"5 to go has a strong presence in Romania and plans to double the business in the coming years, reaching 1,000 coffee shops by 2027 and expanding the operation to 8 new European markets. This rapid expansion, in the economic context, makes us eager to discover solutions to help entrepreneurs in their businesses and to secure a high quality and perfect taste for our coffee products. With the help of Latte Art Factory, we can offer both while keeping consistency in terms of taste, so important for a chain with this kind of presence. We are eager to introduce this innovation in our coffee shops and not only, to bring this automatic solution to work and to delight the consumers with faster service, great taste, and special recipes of coffee with milk", said Radu Savopol, cofounder 5 to go.
When it comes to high-volume sellers, the Latte Art Factory provides the perfect solution. It allows cafés to prepare drinks more efficiently and significantly faster, without compromising quality, texture, or flavor. Thanks to its fully automated milk foaming capabilities, even beginner-level staff can make all kinds of coffee drinks flawlessly, like a pro.
Latte Art Factory by Frank Buna and 5 to go partnership
The partnership between 5 to go and Frank Buna began in October 2022. At at the heart of this partnership lies a key alignment between the two companies' values. 5 to go stands for Taste, Professionalism, Speed, Diversity and Ambition.
Through this partnership, Frank Buna will help 5 to go achieve four main objectives:
deliver high-quality products of a high skill level

maintain a high-speed and deliver more efficient service

increase the variety of its product offering

and to support them in being the best in their markets.
Frank Buna has established itself is an industry leader with its award-winning machines and has an ambition to continue to revolutionize the ever-changing coffee sector.
About 5 to go
5 to go was born from the desire of the founders Radu Savopol and Lucian Bădilă to offer quality coffee-based drinks, at a fair price, while also pursuing the development of the street consumption area in Romania, by implementing an almost exclusive concept of products "to go". The 5 to go concept is successful in establishing an emotional bond with customers, which improves the brand experience. The company communicates with customers from the moment they walk into a store until the moment they leave with their coffee, by transforming each touchpoint into an experience – the coffee shop setup, the barista, the mugs, the diverse portfolio, the constant and creative communication. You can find 5 to go on their website, LinkedIn, Facebook, and Instagram.
About Latte Art Factory by Frank Buna
Frank Buna is building the future of coffee equipment. Bringing together automation with the art of coffee-making, Frank Buna is an innovation leader in a constantly changing market. The company's LAF Bar Pro automatic milk foaming machine won the Specialty Coffee Association's award for best new product of 2022, which Frank Buna considers validation of its strategic vision.
Want to learn more about the Latte Art Factory or purchase one for your café? Visit the Latte Art Factory website, read our product launch press release, or contact us today!
Product Contact:
Franjo Kis
Media Contact:
Lindsay Buescher