10 Reasons to Consider a Commercial Milk Frother for Your Business
It's unsurprising that the art of creating and serving great coffee has continued to evolve over the years with customer expectations now at an all-time high. There are many reasons why you should consider a commercial milk frother for your business.
Creating the perfect coffee is why customers will return to your premises. You need customers to trust that your business will give them their perfect drink and the Latte Art Factory milk frother can and will do exactly that.
Whether you run a café; restaurant or hotel, an automatic milk frother will benefit you and your business. Below are just a few reasons why you should consider the Latte Art Factory milk frother over other machines on offer.
Update: Latte Art Factory makes history with third Best New Product Award win by the Specialty Coffee Association in Portland.
1. Improve workflow speed and efficiency
Thinking of when you'll experience your busiest rushes? The morning commutes? Lunch time hour? Either way, you don't want to keep your customers waiting because of course, efficiency is key.
The Latte Art Factory commercial milk frother is proven to improve workflow and the speed of delivery to the customer, with no compromise on quality. This enables you to quickly create the perfect latte for customers who don't have time to wait, which is crucial for long-term success.
2. Significantly reduce barista training costs
When you implement the Latte Art Factory milk frother into your business, there is very little setup or training required. Thanks to the digital touch screen, our machine allows you to make any milk foam at any time, with ease. Cold drinks, hot drinks and latte art ready milk foam can be created at the push of a button.
Most baristas go through vigorous training to learn how to froth milk depending on the coffee ordered. Whether you have an employee out sick, an inexperienced staff member or a demanding rush hour, let our machine take the stress out of your workflow.
3. Serve consistent quality regardless of the barista's experience​
In the past, making great quality milk foam required highly trained and experienced baristas. Until now, the Latte Art Factory creates latte art ready milk foam along with other hot and cold coffee beverages on demand so you don't need training. Allow our cutting-edge technology to make the perfect milk foam, every single time.
Why is this useful? Many countries are facing staffing shortages for highly experienced baristas. This is where our machine comes in handy by allowing for cafes to hire less experienced baristas to make coffees with the perfect foam, temperature and taste every time.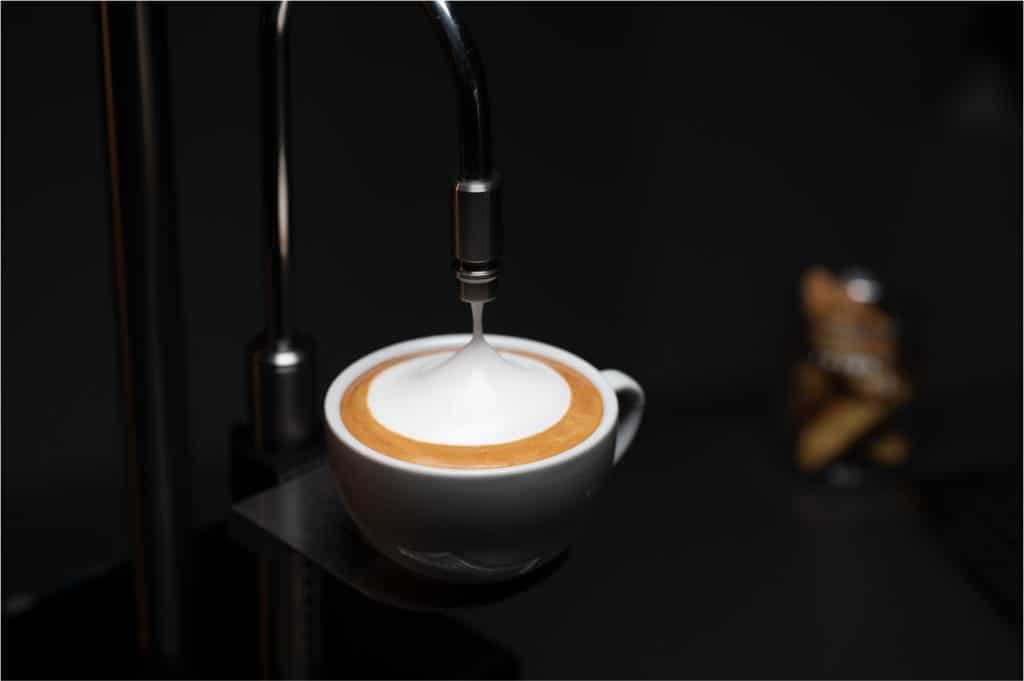 4. Maintain the milk's rich flavor profile
Latte Art Factory is a commercial milk frother that uses pressurized air instead of steam to create perfect milk foam every time.
Why is that important? Steam is not injected into the milk, meaning the milk's flavor profile is maintained. This makes Latte Art Factory the best solution for cafés that want to improve their coffee quality, without the hassle of traditional steam wands, which can lead to overheating and waste.
5. Keep your customers coming back
The coffee preparation is critical, yet your customers deserve exceptional attention. When your staff spends less effort making a variety of coffee drinks – thanks to our automatic milk frother, they will have more time to focus on the individual customer (and upsell).
The more you engage with the customer, the more they will return. Creating a long-lasting relationship with your customers will make you stand out in the market. Humanizing service predicts success.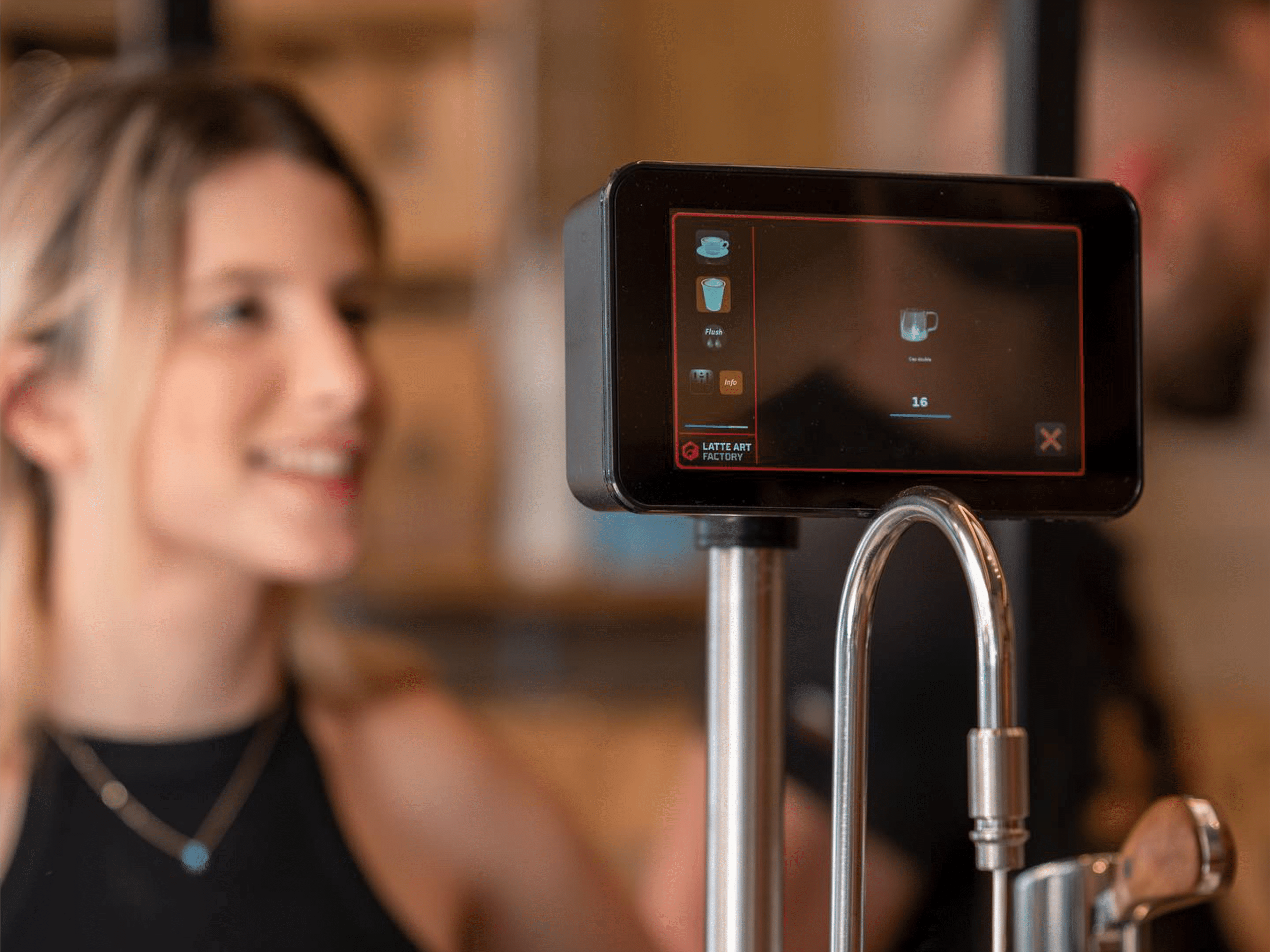 6. Foaming plant milk is now easier than ever
In addition to the technical challenges of milk foaming, baristas also face the challenge of foaming plant milks. It can be difficult to create the ideal milk foam every time, even for experienced baristas. This is because the temperature and texture of the milk can vary depending on the type of milk used, the freshness of the milk, the fat and protein content, and the temperature of the steam wand.
The Latte Art Factory knows its milk. With smart calibration, it assesses each type of milk's characteristics and adjusts the settings accordingly. So whether you're using dairy or plant-based milk, you're covered when it comes to perfect milk texture. 
7. Expand your menu with hot and cold milk foam
Cappuccino, flat white, latte, cold brew or white hill; variety is king when it comes to serving your customer. That's before you even delve into the different milk alternatives you can offer.
Froth dairy milk, oat milk, soy milk and more, the Latte Art Factory commercial milk frother even allows you to froth two kinds of milk at the same time. What's more, you can customize your menu to include cold drinks like nitro cold brew, hot drinks as well as latte art ready milk foam on demand.
Cold foam in coffee drinks is something that has seen increased demand recently. In fact, 75% of drinks sold at Starbucks currently are cold drinks. But cold foam can be finicky and, in many cases, requires extra equipment. Since Latte Art Factory doesn't use steam, it's easier than ever to serve cold foam. It can dispense foam at fridge temperature, which means cold foam at the touch of a button, enhancing any cold coffee drink in an instant!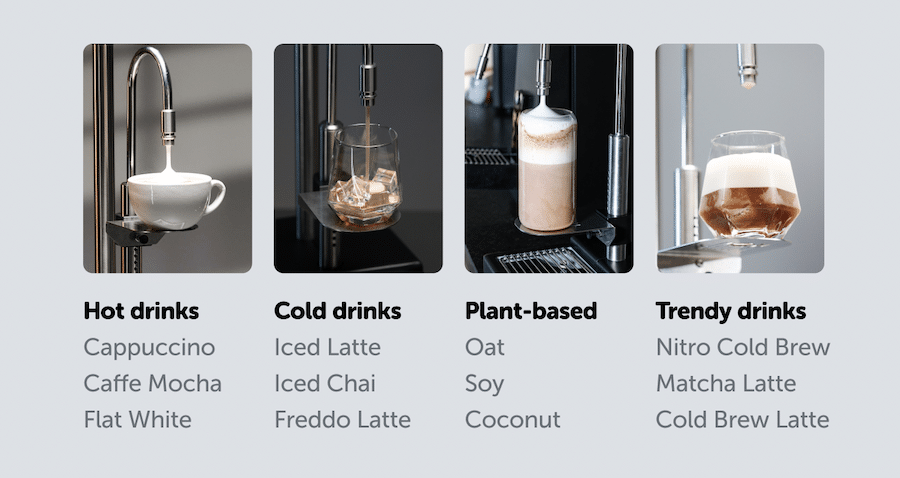 8. Cut milk waste by up to 25%
Waste, no one likes it, especially when you are trying to run a business. Wasting any ingredient can be costly, but burning or frothing milk incorrectly will lose you a lot of money and time. It's not just the financial side of waste that is costly though, the impact it can have on the environment is also an issue.
Luckily, the Latte Art Factory saves the average coffee shop up to 25% on costs associated with milk wastage. The machine is automatically calibrated to froth the exact amount of milk needed for each drink, which is much more sustainable for your business and the environment.
A recent report by Capgemini Research Institute states that over 79% of customers have changed their purchasing patterns due to a company's environmental impacts and considerations. So, by having coffee making and milk frothing equipment that allows you to produce the perfect milk every order reduces your likelihood of repeatedly wasting milk, money and losing reliable customers.

9. Unlock insights from cloud technology
Integrated cloud technology revolutionizes the coffee industry, offering a comprehensive solution for digitizing your cafe operations. Stay ahead of the competition by adopting cutting-edge coffee innovation and optimizing maintenance processes by acting proactively.
With Latte Art Factory's cloud integration, you can monitor your fleet of machines in real-time, measure consumption and quality, and unlock valuable insights for improved forecasting and increased profitability.
10. Quick and easy cleaning
Cleaning is not something baristas look forward to doing at the end of day, but with Latte Art Factory it's a breeze! With only one minute of manual labour, the machine cleans itself in 20 minutes at a minimal cost.
The final word…
If you care about producing consistent high-quality coffee where waste won't be an issue, then we have the perfect milk frothing machine for you.
10 Reasons to Consider a Commercial Milk Frother:
Dramatically improve workflow speed and efficiency

Significantly reduce barista training costs with little to no training needed

Maintain the flavor profile of the milk without diluting the milk with steam

Serve consistent product quality no matter the barista's experience level​

Keep your customers coming back by focusing less on foaming milk and more on the customer

Foam plant milks to perfection: demand is on the rise and they can be tricky to foam

Expand your menu with hot and cold milk foam at the touch of a button​

Cut costs from milk waste by up to 25% from mistakes, spilling, over-pouring

Leverage business intelligence on drink consumption from cloud technology
Ready to level-up your business?
Get in touch