Whether you're a coffee lover or professional, it's important to stay up-to-date on the latest trends in the coffee industry. These 20 coffee blogs, websites and YouTube channels are our must-follows in 2023.
From brewing tips to news about the latest coffee gadgets, these resources have everything you need to stay informed about all things coffee. So bookmark them now and check back often—you won't want to miss a beat!
Coffee Blogs
1. Coffee Affection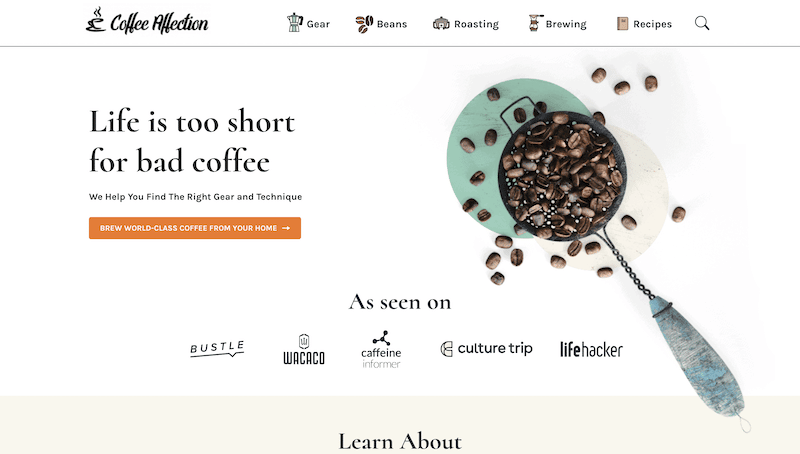 We assume you are reading this article because you have a love of coffee. Then, this is one of the top coffee blogs for you to follow. Coffee Affection's resources are complete with buying guides for both coffee grinding and brewing instruments, comparisons of brewing techniques and much more. Not sure what bean is best suited to your pallet? These guys will point you in the right direction. They also give their honest reviews on equipment.
2. Coffee Review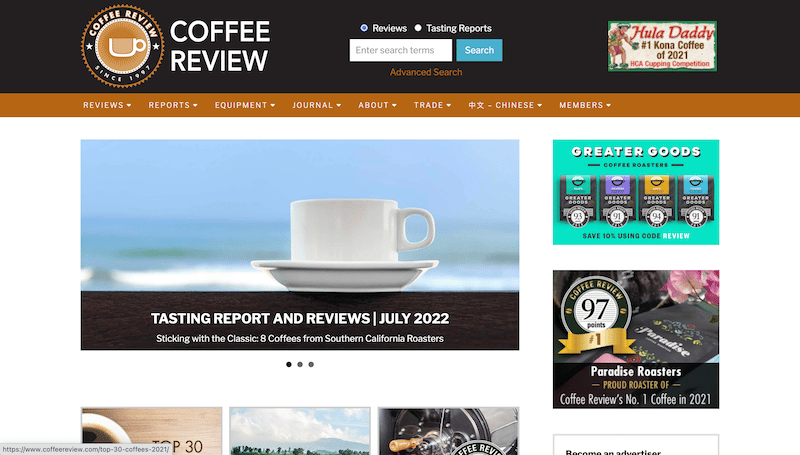 Coffee Review has been around for a couple of decades. It is one of our goto coffee blogs for finding coffee reviews, espresso ratings, and coffee articles brought to you by Kenneth Davids and other leading coffee experts. If you're interested in becoming a more informed and rounded coffee enthusiast, then Coffee Review is a great place to begin your journey.
3. Coffee Lands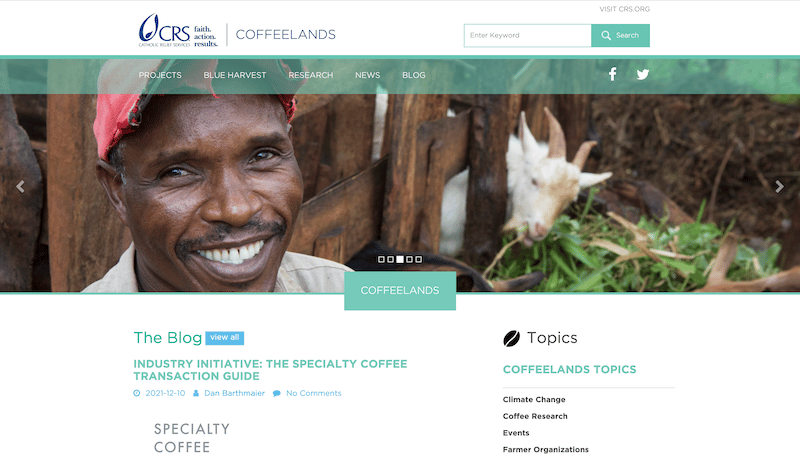 When it comes to coffee, we must talk about where it comes from and ensure it is sourced from an ethical place where everyone involved in the process is treated fairly. Introducing Coffee Lands; their literature illustrates the ethical trade of coffee and introduces us to the grinding work of kickstarting coffee production.
Coffee Lands' projects are coordinated by Catholic Relief Services (CRS), whose mission is to support vulnerable people living in poverty overseas. You can donate to CRS on the website and follow along with initiating projects.
4. Pact Coffee
Obsessed with how your coffee beans are sourced? Look no further…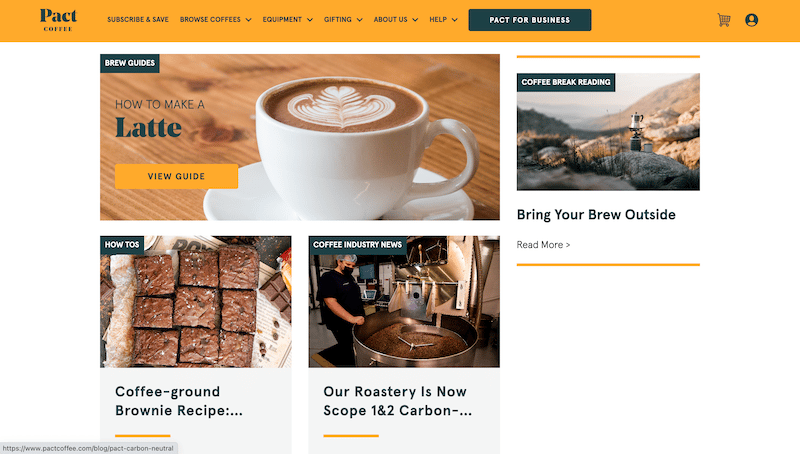 This coffee blog focuses on the entire process of making coffee. Pact Coffee will teach you where to find the best beans, how they are sourced and how to ensure you are drinking ethically sourced coffee. In addition, you will find tons of brewing guides and recipes.
5. Frshgrnd
Discover the best coffee shops in the world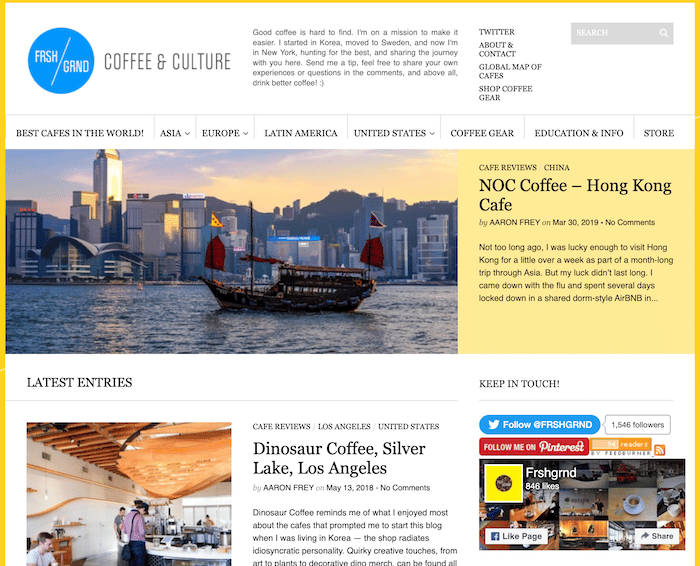 Frshgrnd takes a different approach from the blogs above. Coffee fanatic, Aaron Frey is on a worldwide hunt for the best coffee. He has explored countries in Asia, Europe, and Latin America, and several states in the US.
Here, Aaron doesn't just learn about coffee, but the places and cultures where each of them originates from. He also cleverly recommends coffee shops on a nicely displayed world map, along with a grading scale. Aaron's goal is to be able to find that best cup of coffee and share it with all of us.
6. Bean Ground
One of our favorite coffee blogs for equipment reviews and home brew guides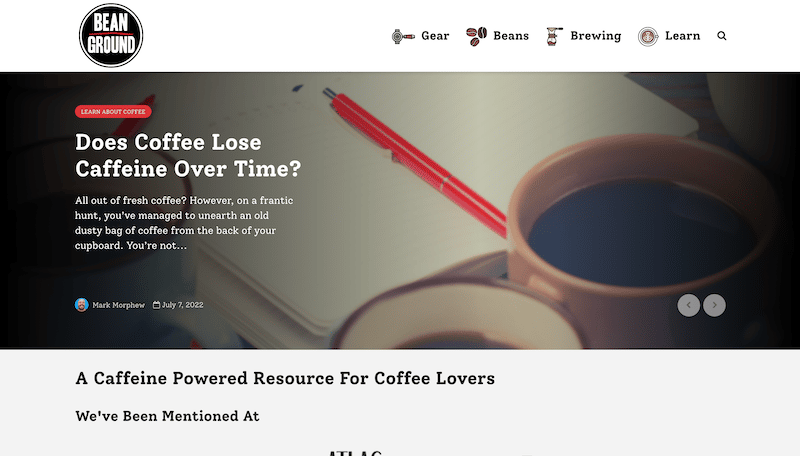 After working in coffee shops around the world, Mark at Bean Ground now finds himself testing and experimenting with coffee at home. Learn how to brew coffee in the comfort of your own home by following the brew guides that Mark has put together. He also reviews some pretty awesome coffee equipment.
7. Manual Coffee Brewing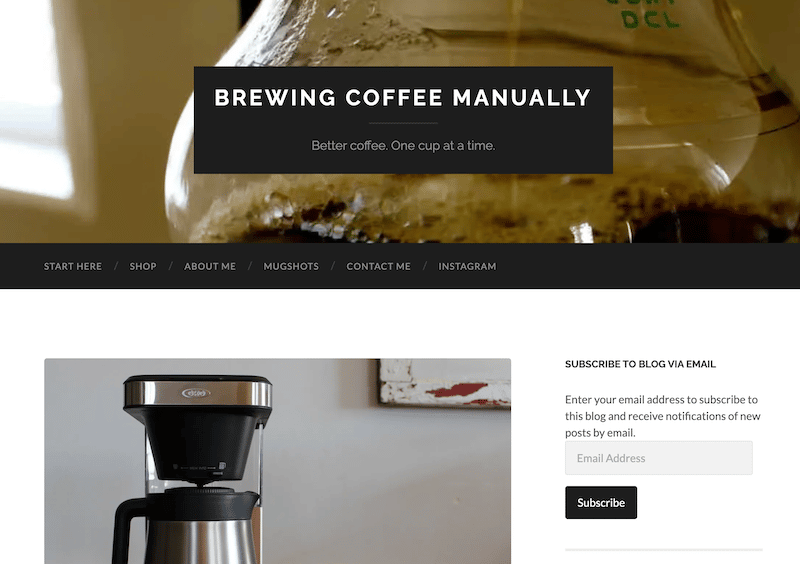 Needless to say, you can probably guess what this blog is about. John, from Manual Coffee Brewing has a passion for roasting coffee at home and shares results of his coffee experiments with you. John will teach you about different techniques of home brewing including pour-over and immersion. If you would like to learn more about the techniques involved in home coffee brewing, then this coffee blog is for you.
8. The Coffee Compass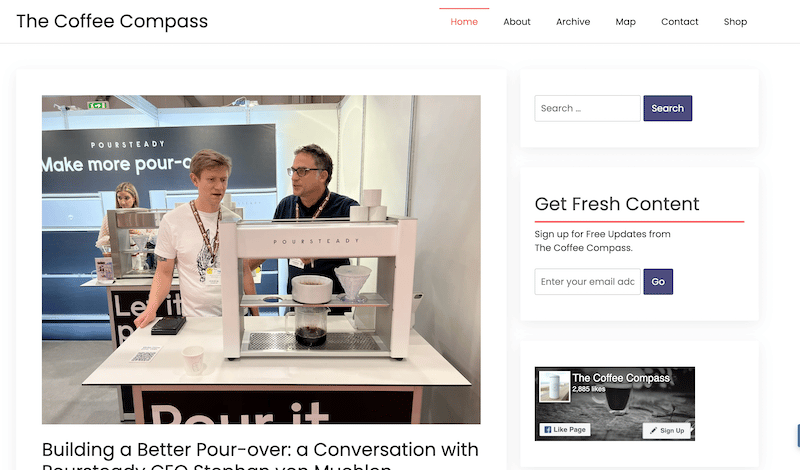 The Coffee Compass looks at coffee on a global scale and was founded by coffee consultant (yes, it's a genuine title), Michael Butterworth who is based in Istanbul while his co-founding partner, Darren Jennings (creator of RoastWatch) is based in San Francisco. Michael and Darren review professional coffee equipment and advise you how to get the best out of it from making iced coffee in an AeroPress along with coffee book reviews.
9. Homegrounds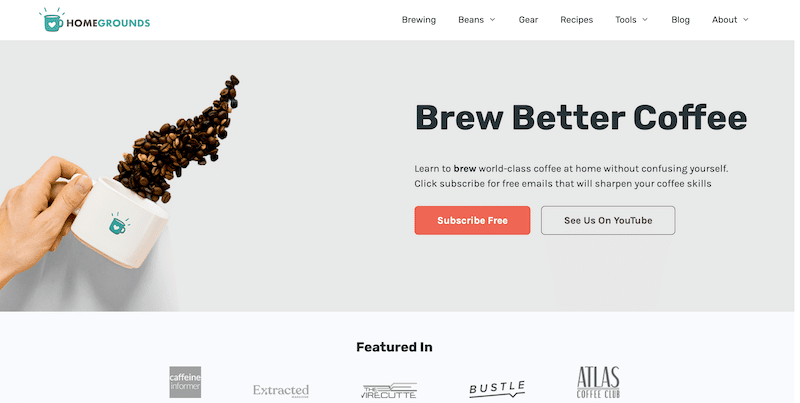 This blog is devoted to helping people make great coffee at home by providing simple, step-by-step guides, reviews of the best coffee beans and machines as well as tips from some of the world's top baristas. Whether you are a beginner or an experienced home barista, Homegrounds has something for everyone who wants to make amazing coffee at home.
Coffee Websites & Magazines
10. Sprudge
Any guesses what Spudge means? You guessed it (well, probably not), it means "coffee crumbs, blotches, and splats". This website is great for both individuals and professionals who are simply looking for up-to-date industry news and events. Keep in the know with coffee professional interviews.They even have a fancy online merchandise shop where you can buy from.
11. Perfect Daily Grind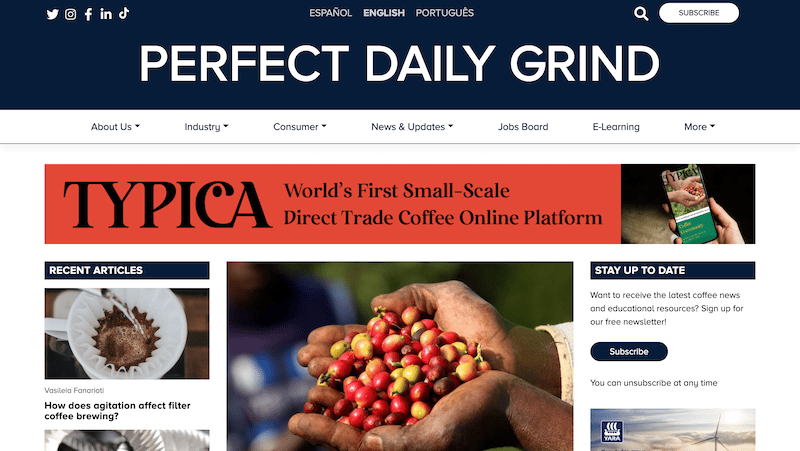 Probably our favorite name for a coffee website. Perfect Daily Grind demonstrates how we can all be involved in supporting the coffee supply chain in a positive manner through its super educational resource. From farming and trade, to serving up an ethical coffee in your shop, this covers the entire chain. Whether you are a barista, own a coffee shop, or want to learn more about the coffee process, Perfect Daily Grind's articles will lead you on the path of success.
12. BeanScene Magazine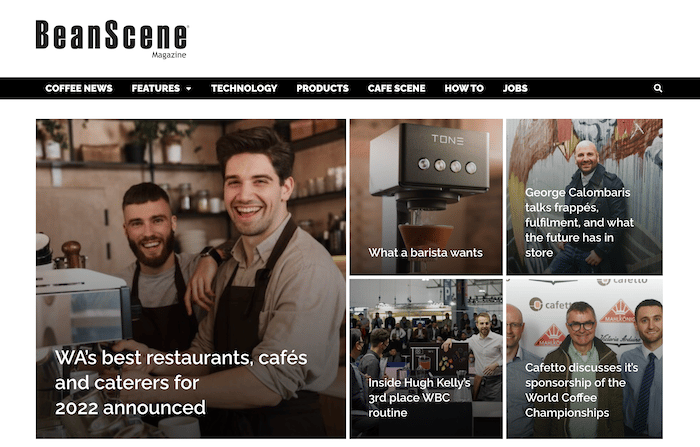 If you are based in Australia, or just have an interest in the Australian coffee scene, then BeanScene is a must-read. The website has a wide range of articles discussing different aspects of the industry including business tips, new product releases and much more. You can also find out about all the latest news and events going on Down Under. Brewing tips and how to's are also uploaded regularly to keep you up-to-date.
13. Daily Coffee News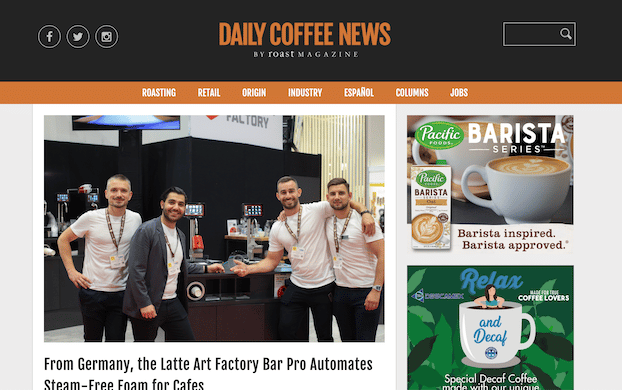 Daily Coffee News is a great resource for trade coffee industry professionals, as well as coffee enthusiasts. With news and articles running daily, you will always be in the know about what is happening in the coffee industry. From business tips to in-depth coffee origin stories, this website has it all.
14. Barista Magazine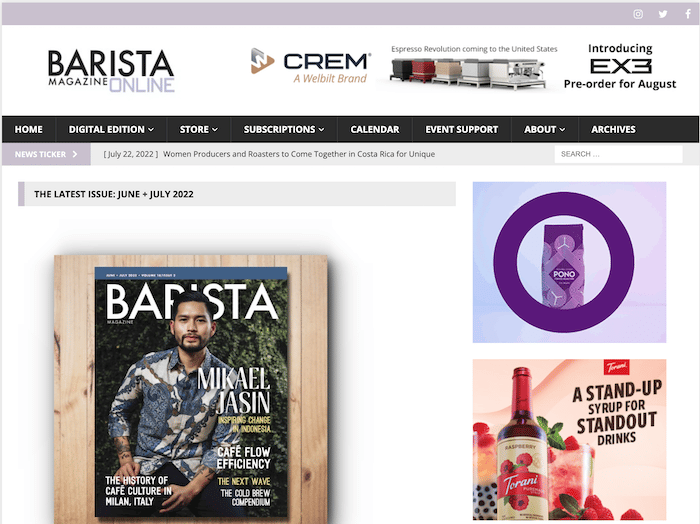 Barista Magazine is the world's leading coffee magazine and website, telling the stories of the people who make our coffee. This website is a great resource for baristas, as well as coffee professionals, with articles discussing a range of topics from business and equipment, to barista competitions and product reviews. Whether you are looking for the latest industry news or just a little inspiration, Barista Magazine has you covered!
15. Fresh Cup Magazine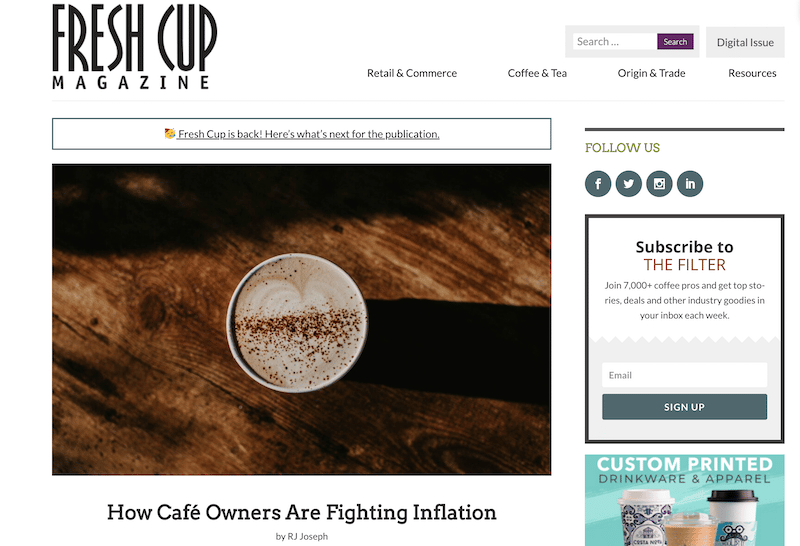 This magazine is perfect for coffee shop owners, managers, and baristas. Fresh Cup Magazine features articles on how to run a successful business in a competitive industry, as well as showcasing new coffee equipment, recipes, and more. What's more, they also provide information on tea, showcasing the different regions where it is grown and made. If you want the best of the coffee and tea industry all in one place, Fresh Cup Magazine is the perfect resource.
16. European Coffee Trip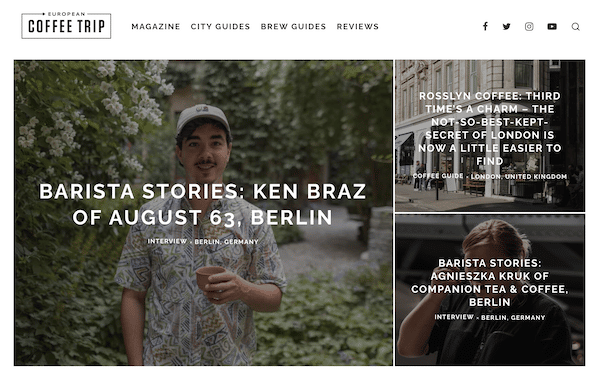 If you are interested in learning more about the coffee culture throughout Europe, then European Coffee Trip is a must-visit website. This website is filled with articles, interviews, and photos covering the best coffee shops and roasters in each city. Whether you are looking for tips on how to start your own coffee shop, or simply want some inspiration for the perfect cup of coffee, European Coffee Trip has it all.
Coffee Youtube Channels 
Just because we love coffee so much, we thought we would include a few Youtube channels that are all about coffee. Whether you want to learn how to make latte art, or simply want to be inspired by some of the world's best baristas, these channels are a great resource.
17. James Hoffman's Channel

If you ask any coffee professional, they will undoubtedly have heard of James Hoffman. He is considered a leading expert in the coffee industry, and is the author of World Atlas of Coffee, a book that is considered the coffee industry's definitive guide. James Hoffman also runs his own Youtube channel, where he shares tips and advice for both budding and experienced.
On his Youtube channel, James regularly shares videos covering different aspects of coffee from brewing tips and how-to's to reviews and video essays all about coffee. If you want to learn more about the world of coffee, then James Hoffman's Youtube channel is a must-follow.
18. Kyle Rowsell's Home-Brewing Channel

If you are looking for a Youtube channel all about home-brewing and coffee equipment, Kyle Rowsell's channel is the perfect place to start. He reviews a wide range of coffee equipment, from entry-level to professional, and provides in-depth brewing tips and tricks. Whether you are a seasoned barista or just starting out, this channel is sure to teach you something new.
19. Morgan Drinks Coffee

Morgan Drinks Coffee is a channel by the 2022 U.S. Barista Champion, Morgan Eckroth, dedicated to all things coffee. Morgan first rose to fame on TikTok, where she shared humorous videos about the life of a barista and won over millions of fans. On her Youtube channel, Morgan continues to showcase her passion for coffee, while also sharing tips and tricks for anyone interested in learning more about the coffee industry. A must-follow if you love coffee!
20. Whole Latte Love

If you are in the market for a new coffee machine, or simply want to learn more about the different types of machines available, Whole Latte Love is the perfect place to start. They have an extensive selection of coffee equipment reviews and guides, as well as videos on how to optimize your home barista experience.
Whether you are an experienced barista or just starting out, Whole Latte Love has something for everyone. So why not head over and check out their massive selection of videos today?
Top 20 Coffee Blogs, Websites and YouTube Channels
So if you are looking for the best coffee blogs, websites, and Youtube channels in 2022, be sure to check out the ones listed above! Whether you are a coffee professional looking for expert advice, or simply want to learn more about the world of coffee, these resources are sure to help. Thanks for reading, and happy brewing!