We live in a time where there's always someone strolling through the park or the street with a cardboard-wrapped cup of coffee in hand. The coffee business keeps flourishing – so does business competition. That's the major reason why you should be on the lookout for ways to make your coffee shop more efficient and increase your sales.
Although high competition is one of the primary concerns of your business, there are many things to consider when running a coffee shop.
Grow the sales of your coffee business with these 8 tips
1. Build a culture of quality
One of the biggest mistakes that entrepreneurs make when trying to grow their coffee business is focusing on the number of sales in the first place rather than the quality of their services or products. Getting more sales in the shortest period of time is alluring, but it can destroy your business.
On the other hand, building a culture of quality and customer loyalty will help you grow a quality brand and secure your success in the long run. After all, businesses with disloyal customers waste tons of resources on attracting new customers. If your customers love your coffee shop, they'll definitely make recommendations to their friends, coworkers, and family.
2. Automate your workflows
Embracing automation has revolutionized the coffee industry, streamlining processes, enhancing precision, and elevating the coffee experience for both baristas and customers. From grinding, to tamping, to extracting espresso. So why not milk frothing and texturizing?
An automated milk frother solves the age-old challenges of achieving consistent milk texture and temperature, reducing the stress of busy periods and staffing shortages. Additionally, game-changers like the Latte Art Factory allow for seamless inclusion of cold and plant-based drinks to café menus, expanding the range of options available to customers.
Investing in automation with an automatic milk frother not only ensures impeccable quality in every cup but also optimizes workflow efficiency and helps save on costs, making it a must-have tool for any coffee business looking to level up their offerings and exceed customer expectations.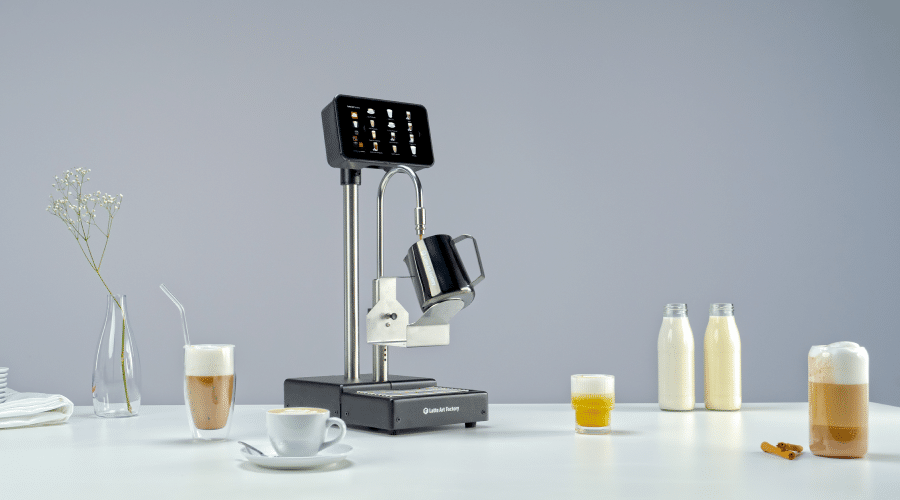 3. Optimize your beverage menu
Your basic coffee menu doesn't need to include dozens of drinks. Focus on the top sellers and add seasonal variety like cold coffee drinks in the summer, or pumpkin spice latte in the fall, or foamy hot chocolate in winter. Analyse which drinks are the most popular and which ones aren't. Pay attention to each customer's feedback. If many of them don't like your cappuccinos or lattes, reconsider your machinery or the quality of coffee beans.
Choose state-of-the-art equipment that ensures consistent quality and efficient workflows, such as a professional milk solution like Latte Art Factory as an add-on to solid espresso machine and grinder. Opt for top-quality coffee beans and pay attention to the milk added to your drinks. It's best if you have regular and alternative milk options as there are many vegans and lactose-intolerance coffee drinkers. Create a display of add-ons and post signs that show off your most successful espresso-based creations. The sky is the limit here.
If possible, source your consumables locally – as they tell a story of their own and help you build your brand.
4. Hire the right people
Qualified staff is the Achilles heel of every coffee business. It's not easy to find professionals who enjoy their job and do it at the very best level. It's even harder to make them stay and grow with you. Avoid being the boss out of all the bosses. Become a leader, not just a boss. Create a comfortable environment for your staff to work in and help them become a top-notch team.
When hiring professionals, you offer the machinery that boasts your pursuit of quality. For example, automatic milk foam solutions will help to improve workflow, tidiness, and reduce spillage behind the counter.
5. Get closer to the customer
The coffee preparation is critical, yet your customers deserve exceptional attention. When your staff spends less effort making a variety of coffee drinks – thanks to top-notch machinery, they will have more time to focus on the individual customer.
Nowadays, everything is sold on the H2H (human to human) level. The more you engage with the customer, the more will return. Creating a long-lasting relationship with your customers will make you stand out in the market. Humanizing service predicts success. That's another reason why you should hire the right (not the cheapest) employees. Also, pay special attention to the right mindset, not skills.
6. Promote up-selling and cross-selling
See an up-selling or cross-selling strategy as an opportunity to make customers happy while increasing your profits. Creating a cross-selling or up-selling strategy isn't rocket science, yet it takes some planning and service upgrading.
People can get their cup of joe anywhere so you need to offer something more than only the top-quality bean. Many customers head to coffee shops to have a cup of cappuccino with an incredibly tasty piece of cake or cookie. For you, it's a quick sale and extra income. For customers, it's a pleasure that they want to experience day by day.
Besides cakes and cookies, you can also offer soft drinks for those who would like a bit of fizz with their coffee. Adding craft chocolate can give your coffee business a boost, too. There are many creative ideas that bring impressive profits while requiring only little extra effort.
7. Gather the data from your coffee business
Coffee tracking helps decrease waste while making sure your coffee shop has an adequate supply to run efficiently. Stock the most popular milk alternatives ordered by customers and keep track of your inventory. Order just what you strive to sell on the next 2 to 3 days in order to lower food waste. Keep track of what you sell daily and order various amounts of food items like cookies or pastries, which tend to last only a day.
It's also important to track which drinks are the most popular ones and when. This way, you can actively manage your portfolio to deliver maximum revenue and profit. As soon as you figure out which drinks are the most popular ones at certain times and how these peaks correlate with circumstances like weather, events, or holiday seasons, you'll be able to increase your sales.
8. Ensure that your customers walk out the door with a smile
Finally, be authentic, be yourself, and live up to what you offer: The best coffee in town! This will encourage both new and loyal customers to return to your coffee shop not only for your coffee but for your hospitality, as well.
Develop strong customer relationships, upgrade your menu, host coffee-related events, and create a relaxed atmosphere where people can alleviate stress while enjoying a cup of their favorite drink. When your customers smile while leaving your coffee shop, be sure they'll return tomorrow.
The final word on growing your coffee business
The art of growing a coffee business isn't simple, but it makes you tap into a large pool of potential sales. Learn to manage your inventory, staff, and your customers' experience, and you will always stay in command of your flourishing coffee business.
Ready to wow your customers?
Get in touch